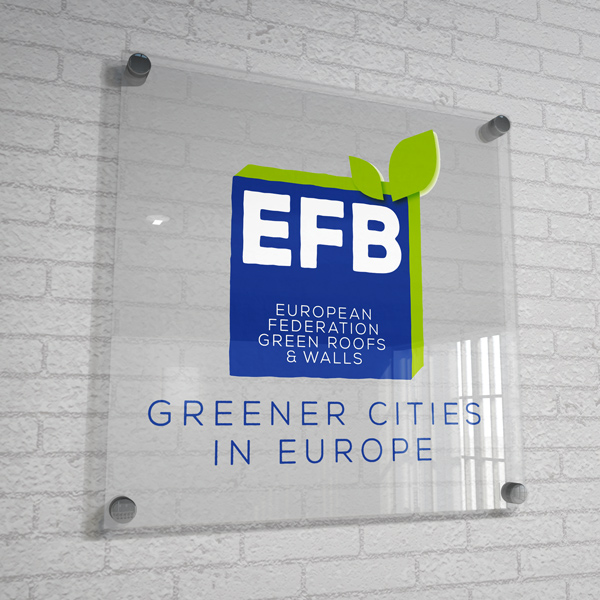 Wel­co­me to the

EFB

– the orga­ni­sa­ti­on that brings Europe's green roof asso­cia­ti­ons together
//
In the light of the launch of the Euro­pean Green Infra­st­ruc­tu­re and Eco­sys­tem Ser­vices Stra­te­gy the Fede­ra­ti­on regu­lar­ly attends working groups and mee­tings in Brussels orga­nis­ed by the Euro­pean Com­mis­si­on. This new approach to cities being pro­mo­ted by the Com­mis­si­on gives the Fede­ra­ti­on an important role to play in the com­ing years.
Die Euro­päi­sche Dach­or­ga­ni­sa­ti­on aller Bau­werks­be­grü­nungs-­Ver­bän­de bün­delt die Kräf­te die­ser Zukunfts­bran­che aus 13 Län­dern. Haupt­ziel ist es, die Fol­gen der Kli­ma­ver­än­de­rung für die gro­ßen Städ­te abzumildern.
Die EFB brauch­te ein Logo, das ohne vie­le Wor­te das aus­drückt, um was es geht: Gebäu­de der Zukunft wer­den orga­ni­scher sein. Sei es durch Dach­be­grü­nung oder Wand­be­pflan­zung. Unse­re Städ­te als Gan­zes wer­den viel orga­ni­scher sein. Durch nicht-ver­sie­gel­te versickerungs­fähige Ober­flä­chen, mehr Blu­men für Bie­nen etc.
Preis­ka­te­go­rie
Premium
.….….….….….….…..
Bezahl­te Extras
Sty­legui­de
Geschäfts­pa­pier
Visi­ten­kar­ten
.….….….….….….…..
Pro­jekt­be­treu­ung
Wal­ter Kneitschel
.….….….….….….…..
Desi­gner
Mario Simon-Hoor

Hier sind ein paar ähn­li­che Pro­jek­te, die Ihnen auch gefal­len könn­ten
//