Green4Cities:
Gemein­sam den
grü­nen Kreis­lauf der Städ­te aktivieren
//
Acting as con­sul­tant, faci­li­ta­tor, coach, desi­gner, pro­ject manager,­net­­worker, Green4Cities leads cli­ents, cus­to­mers and sta­ke­hol­ders through a wide ran­ge of oppor­tu­nities for diver­se and sus­tainab­le deve­lo­p­ment of ­urban green space.
Green4Cities ist das inter­na­tio­na­le Kompetenz­zentrum für ­urba­ne grü­ne Infra­struk­tur. G4C ent­wi­ckelt Ideen, Kon­zep­te und Lösun­gen für grü­ne Visio­nen. Weg­wei­sen­de ­maß­ge­schnei­der­te grü­ne Infra­struk­tu­ren, um Städ­te sicher und lebens­wert durch den Kli­ma­wan­del zu führen.
Das jun­ge Team von G4C – ein Spin Off von 4 Absol­ven­ten der Wie­ner Uni­ver­si­tät für Boden­kul­tur – wünsch­te sich ein Logo, das prä­gnant und unver­wech­sel­bar ihre grü­nen Visio­nen und eben­so ihre Kom­pe­tenz in der Umset­zung der­sel­ben ver­kör­pert. Wir haben das Logo maxi­mal ver­ein­facht, bis es nur noch grün, freund­lich und uni­que war. Alles ande­re hät­te doch nur gestört.
Preis­ka­te­go­rie
Business
.….….….….….….…..
Bezahl­te Extras
Geschäfts­pa­pie­re
Visi­ten­kar­ten
.….….….….….….…..
Pro­jekt­be­treu­ung
Wal­ter Kneitschel
.….….….….….….…..
Desi­gner
Mario Simon-Hoor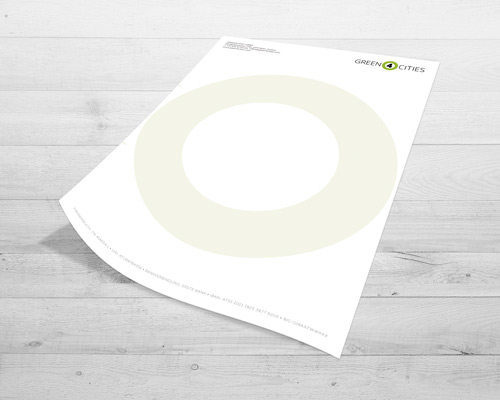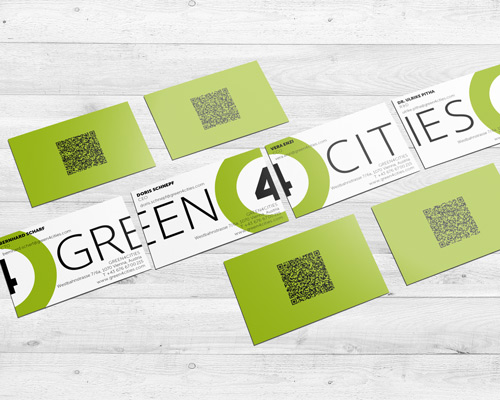 Hier sind ein paar ähn­li­che Pro­jek­te, die Ihnen auch gefal­len könn­ten
//